For the Children
Saturday was the Youth Waterfowl Hunt
at
TMG WMA
. As always, it is my favorite
hunt of the year.
I was quite fortunate this year. Stu got
a draw for the Goodwin side, but was the
14th pick of 16 groups. I wasn't sure
we would get the spot we wanted in
the reservoir. Out of the blue earlier
in the week, I got an email from Mike U.
I had worked with him years before
at Controls. He had been scanning
the Internet for info on the Youth
me from a picture, and wrote to see
if I was hunting. He and a friend were
each taking a son and his boy had
the fifth pick. He asked if I wanted
to have Stu and Tommy party up
with them. I dithered at first because
I didn't have waders for Tommy. But,
Tom found an old pair that he could
fit and the bathtub proved didn't leak,
and we were ready.
I got there early and found the gate open
and drove on in. There had been no
hunters in line and no one else at
the check in stand. Jason "Kansas" the
intern was working the desk and gave
me good G2 on where he had seen
birds. It was the same impoundment
where Craig had had his great YWfH
nine years before.
Mike and his buddy Dave showed up
with their sons, Josh and Kody and
reissued their invitation. I was only
too greedy eager to agree. Jamie F.,
the local Professional Wildlife
Biologist confirmed the G2 and we
got the spot we wanted.
Kansas wasn't going to run the "hay
wagon" and gave us permission to
drive up by the observation tower
next to our draw.
It wasn't a big pond and we set up
on the north reed line. With the south
wind we weren't in the best spot,
but it wasn't a strong wind and
teal will fly however they want to.
We were on the bank, high and dry.
The decoys were in two wads in
front of us and we had a lot of
time (an hour) to enjoy morning on
the marsh. I had hoped for fog and
ended up not being disappointed.
The fog rolled in and slowly blotted
out all the distant lights. We could
hear lots of hen and drake teal around
us and (I thought) some pintail. A
group of black bellied tree ducks came
over, but never came back.
When shooting time came, we had
one duck land and get nipped, but
it landed a ways out and disappeared
before we could make a retrieve.
I realized that we weren't right where
the ducks wanted to be and we picked
up and quickly moved to the only
other spot with cover. We were still
facing south into the wind, but the
decoys were in much shallower
water. We covered up with palmetto
fans that Mike and Dave had brought
with them as best we could. The
four boys were in front and the
dads behind. We were exposed,
but it didn't seem to bother the
birds. Fog helps.
Tommy in the Blind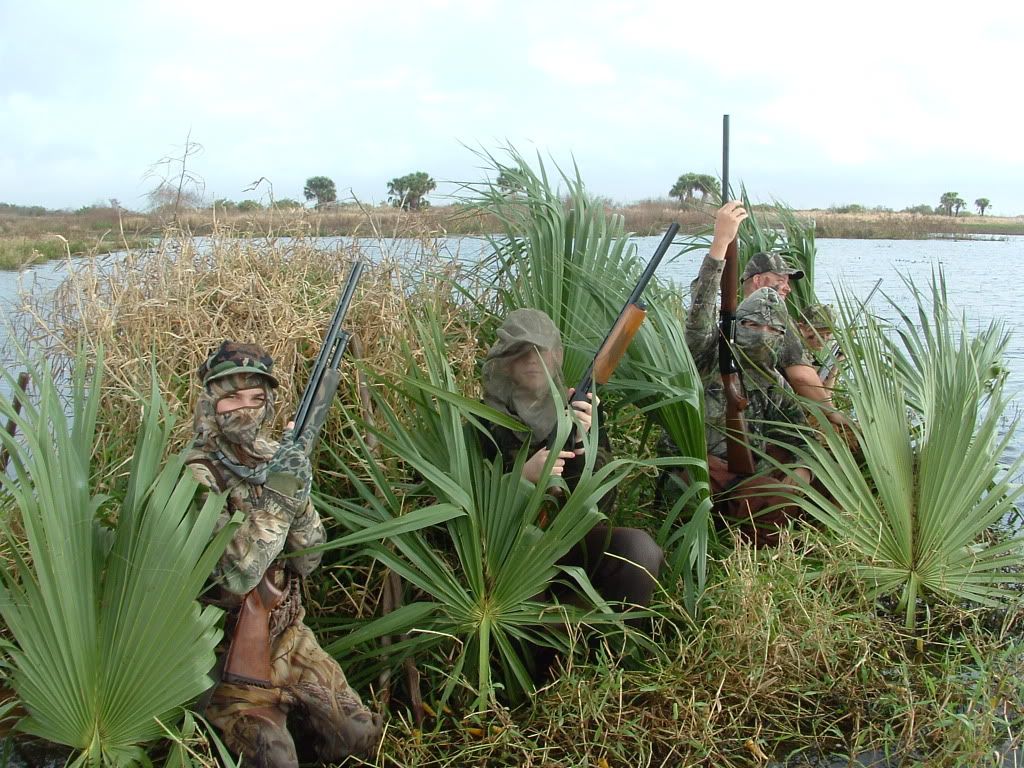 Wide Open on Our Little Island
Stu fell in a hole and got most everything
wet but his gun. He was miserable, but
still hunting. Tommy managed the first
duck - a hen blue wing - that landed to
the right of his position. We were on
the board and the rest of the day was
gravy.
We never had big opportunities after that
and most of the shots were passing shots.
Mike's son Josh had the hot hand making
many really hard over the left shoulder
shots. He finished the day with his first
four ducks - 3 bwt and 1 gwt. Kody was
wedged in the middle and didn't have
as many chances, but as soon as he
moved to the end seat, he dropped a
nice drake bwt - his first duck.
Tommy got one more duck when
a small group of gwt flew through.
It happened so fast that he didn't
have time to really pick them up.
He fired instinctually and hit his
drake with most of the 3" #4 20 ga.
steel pellets. That was about as
dead a duck as I've ever seen.
Stu got a nice drake bwt and
crippled a drake ringer. Mike
and I made a two lab tough
retrieve on that bird in some
thick mud and para grass. I
again tested my blood pressure
medicine to the max and it
came through.
A UWF buddy - Naustin -
was on shore and took these
pictures of us on the wade in:
We hit IHOP for a late
breakfast/early lunch and
had then sent some tired boys
and proud-and-tired dads
home.
It was the best hunt of the season!
Four Happy Hunters
Stuart and Tommy with (l to r) Drake BWT, Drake Ringer, Drake GWT, Hen BWT


Duck Hunting is Serious Business